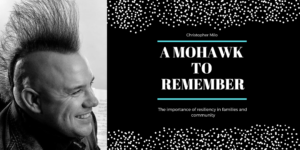 Twenty-one, straight out of college, and new to the world of nonprofit—that's me.
My name is Ashley Kreiner, and I am the Resource Development Coordinator for the Upstate Family Resource Center. The focus of my role is increasing resources of time, talent and treasure. This includes: planning events, managing the social media pages and website, marketing/branding, engaging potential donors, and whatever else I can do to support our organization.
It may sound like a lot (it is), but I graduated from the University of South Carolina Upstate in December 2018, majoring in Mass Communication and minoring in Health Communication. I was born ready.
The first big project I have been given is our spring fundraising event. Hired in February, I needed to find a speaker, a theme, everything except for a location (thank goodness). Oh, this needed to before the end of April. Impossible, you say? Maybe not.
Christopher Milo, Nationally Renowned Concert Pianist and Professional Motivational Speaker, is coming Thursday, April 25th to talk about the importance of resiliency in families and community. He will be speaking at The Lodge by Lake Bowen, accompanied by his digital piano to deliver an unforgettable message.
Guests will enjoy desserts and coffee—well, whatever I leave anyways. I am a cupcake fanatic!
Here's some quick facts about our speaker:
Christopher Milo was once told he would never walk again
To this day, he continues to make appearances at hospitals and cancer centers to speak to children affected by cancer
He has a book called, It's Not About Me
He has spoken to over 500,000 students, educators and parents on topics, including:

Leadership
Anti-Bullying
Suicide Solutions
Teen Pregnancy
Drugs
And more
Want to keep reading about Mr. Milo? Here is the source for this information:
https://www.christophermilo.com/
Although we didn't ask him, he offered to speak to Boiling Springs Middle School students the morning of April 25th. This he is doing from the kindness of his heart, because even Milo understands the importance of our youth, and fostering positivity and hope in them.
No, you're not invited to that one—I said it's for the students!
We are so excited to be able to provide this great opportunity. If you would like to come to the event, from 6:30-8:00pm, tickets will be available on Eventbrite. Here's the link. Click it! Do it for the new gal.
Do it so the Upstate Family Resource Center can continue to help families thrive.
https://www.eventbrite.com/e/a-mohawk-to-remember-tickets-58872604545?aff=ebdssbdestsearch