Jessica McKinney
Secretary
What invokes thoughts of summer? Water play, kids out of school, playtime outside?
Maybe you want to be with your kids this summer, but you work full time and aren't able to engage your children as much as you'd like.
Both of my children attend Summer Day Camp at the Upstate Family Resource Center (UFRC) this year and they love it.  Each week has a theme, and this first week's is Cooking Academy!  Campers get to learn healthy eating options from Subway and Kids Heart Felt Health Cooking Class.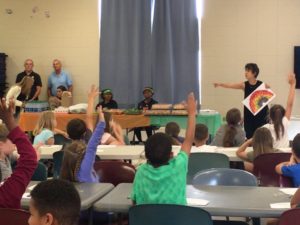 Wednesday, June 12th the Subway in Boiling Springs came to present their "Share the Color" Food Workshop for over 50 children at the Summer Day Camp.  Subway discussed what different colors of food do to nourish the body, the functions of food groups, and let children color their own chief hats with crayons representing those food colors.
Children were called on to answer questions during the presentation, and received Subway gift cards when they got a question correct.  After the discussion, they got to create their own subs, and take home a subway coupon and coloring book on food exploration.
Subway is holding these free workshops over the next couple of weeks at local libraries in the Greenville-Spartanburg-Anderson-Ashevlle (GSAA) market.  The next next two locations will be:
July 22nd, 4:00pm

Anderson County Library
864-260-4500 ext. 158
300 N. McDuffle St., Anderson, SC 29621

July 23rd, 1:00pm

Jackson County Public Library
828-586-2016
310 Keener St, Sylvia, NC 28779
The Summer Day Camp is coordinated by District 2 employee and Recreational Assistant Lynley Murph, and Parks and Youth Development Coordinator Elise Gosnell, who do an amazing job keeping the kids safe and entertained.  Their crew genuinely care about the kids in camp and have a great time with them as well.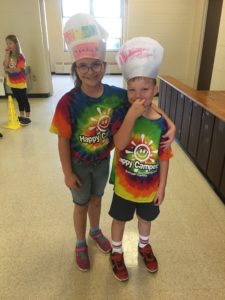 "My favorite part of camp is watching each camper's personal journey from their first day of
camp as a shy, and reserved child, to a confident camper by their last day," said Ms. Murph.
Summer Day Camp for children ages 5-12 is offered for 8 weeks during summer break. If you missed enrollment this year, make sure your pay attention to our social media (or Parks and Rec's) for open registration next year.
To check the availability of other camps sites, go to:
https://spartanburgparks.org/