Jerrid Burdue
Americorps VISTA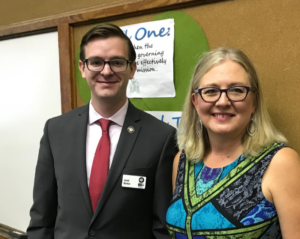 As my AmeriCorps VISTA service year comes to a close, I would like to reflect back on some of the accomplishments and highlights.
I came to Boiling Springs, SC unsure what to expect of the area and the people. I was welcomed with open arms but was not prepared for the culture shock that was about to occur. See, I grew up in Michigan and lived in Canada for a while – I never really visited the South, let alone lived there. The first time a coworker asked me to grab a "buggy" I stared at them with the most confused face imaginable – I simply did not know where to gather a horse and buggy from at UFRC.
I worked on a wide variety of projects throughout my term and really learned that no two days are alike in the nonprofit world. One day I am overseeing 20 volunteers and the next day I am pulling Census data for a grant. If I had to select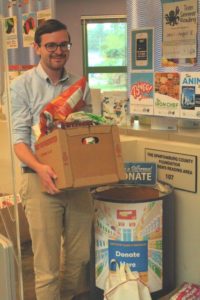 a favorite project and accomplishment for the year, it would have to be my collection of financial literacy and financial empowerment resources I found throughout my service. Starting out I thought I just needed to find information to provide to our families so I ordered a ton of boring and wordy sheets. It was not long before I realized this simply was not effective so I went on a hunt to find ways to better engage our clients. From financial literacy comic books produced by Marvel and Visa to "Your Money, Your Goals" by the Consumer Financial Protection Bureau, I believe these resources will help members of our community better address their finances. "Your Money, Your Goals" which are colorful, easy to understand booklets on debt, bills, and credit have different worksheets within to help individuals better see their financial picture and steps to help improve. I am proud to have brought this resource to UFRC and hope other agencies in the community will use them as well (Middle Tyger Community Center is starting to).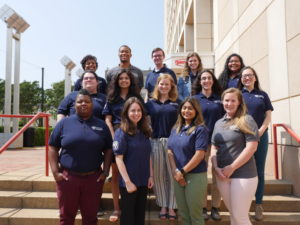 Being a VISTA through the United Way of the Piedmont allowed me to work alongside other VISTAs in the community. I was able to partner
with some amazing people to help install and repair Little Free Libraries throughout Spartanburg County. Not only did this allow me to get out of the office for a little while, I was able to experience more of Spartanburg this way. Another community project was to improve Charity Tracker, an online system that helps agencies report on the assistance they provide. Not only will our efforts to clarify and consolidate some of the categories on Charity Tracker make it easier for Upstate Family Resource Center to pull reports, it will improve the user experience for over 35 United Way partner agencies in the community.
Although I am shifting career paths a little by going into economic development and city planning, community service is now part of who I am. I have already contacted the United Way of Southwest Michigan to see about volunteer opportunities when I move back north. Through the experiences and friendships made through the VISTA program, I have grown both personal and professionally.  I am grateful for the time spent with the UFRC and my follow VISTAs.