Members' contributions provide $22,500 in grants
Gaffney, SC, December 5, 2017: Broad River Electric Charities has distributed $22,800 from its Operation Round Up® fund to local charities this holiday season. The 14 organizations and initiatives represent a broad spectrum of causes and ministries, including food banks, toy drives, and education.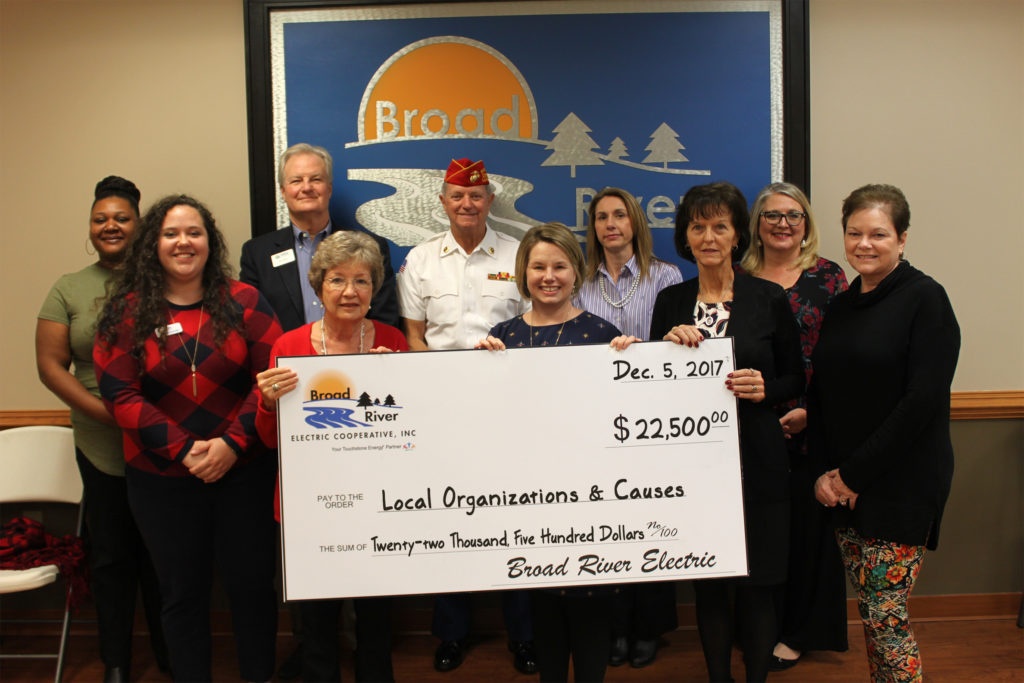 Organizations receiving Operation Round Up® funds include the Broad River Leathernecks, Cherokee County Mental Health Association, WBCU Truck Full of Toys, Salvation Army, Upstate Family Resource Center, Blacksburg High School's AVID program, the Free Medical Clinic of Cherokee County, Habitat for Humanity of Spartanburg, Hope Center for Children, Union County Cancer Service, The Gaffney Ledger's "Christmas is for Kids," Peachcenter Ministries, The Spartanburg Herald-Journal's Goodfellows program, and the Union County Baptist Association.
Broad River Leathernecks, an organization of Cherokee County U.S. Marine Corps veterans, will use their $1,000 donation for an annual toy drive.
Cherokee County Mental Health Association received $500 for the purchase of holiday gift cards that will be given to the children of their clients. 
Union County's radio station WBCU received $1,500 to support their annual holiday toy drive for local children, "Truck Full of Toys."
The Salvation Army received $1,000 to help fund their programs to meet the needs of Union County residents.
The Upstate Family Resource Center, which serves families in Boiling Springs, Inman, and Chesnee, also received $1,000. 
Blacksburg High School's "Advancement Via Individual Determination (AVID) will use the $1,000 provides academic and social support to prepare students for college and success.
The Free Medical Clinic of Cherokee County received $3,000 to help fund medical supplies and prescription assistance for individuals in need.
Habitat for Humanity of Spartanburg, which partners with local families in need to build decent affordable housing, received $3,000.
Hope Center for Children received $3,000 to support their service to children and families in the Upstate.
Union County Cancer service will use the $3,000 donated to fund supplies that are not covered by insurance for local individuals with cancer.
"The Christmas is for Kids" campaign raises funds from the community to ensure that disadvantaged children Cherokee County will have presents for Christmas, received $1,000 .
Peachcenter Ministries provides the needy of Cherokee County with food, financial and medical assistance and other forms of aid. They received a $1,500 donation.
Goodfellows, which received $1,000, is celebrating 70 years of putting food on the tables of disadvantaged Spartanburg-area families during the holidays.
Union County Baptist Association's Crisis Ministry Network is a cooperative ministry of the churches that assists residents of Union County with resources to help in times of crisis. The UCBA received $1,000.
"It is inspiring to see the impact these organizations have on our communities," said Broad River Electric Charities Board member Nancy Jordan. "We thank the Broad River Electric membership for their generosity and the trust placed in our board to select these recipients." 
Donations to the selected charities come from Broad River Electric's Operation Round Up program. Each month, the account balances of participating members are rounded up to the nearest dollar. That extra change goes to the benevolent fund that assists organizations and goodwill missions in and around Broad River Electric Cooperative's service area.
Funds from Operation Round Up are distributed quarterly through Broad River Electric Charities, Inc, which is governed by a 7-member board representing the cooperative and the three major counties it serves – Cherokee, Union and Spartanburg. Members of the Charities Board are: Daisy Lemmons and Nancy Jordan of Cherokee County, Jane Rhinehart and Barbara Whitney of Spartanburg County, Carolyn Belue and Carol Smith of Union County and Broad River Electric President and CEO Terry Mallard (ex-officio). Organizations wishing to request funds can contact the cooperative to begin the application process.
Broad River Electric Charities is a philanthropic subsidiary of Broad River Electric Cooperative, a non-profit, member-owned distribution cooperative providing services to more than 20,000 members in Cherokee, Spartanburg Union and Newberry counties in South Carolina and Cleveland, Polk and Rutherford counties in North Carolina.