Jessica McKinney
Bookkeeper
It's almost Halloween and if your kids are like mine, they are throwing costume ideas at you left and right! Now, I'm not a Halloween party pooper. I totally believe in this "right of childhood" and am willing to indulge in their costume whims—to a point. I just can't bring myself to spend loads of money on something they will wear for only one night. So, out comes my crafty side, handy dandy glue gun, and my personal favorite-felt!
Here are some cheap and easy ways to make Halloween costumes!
Two years ago, my daughter wanted to be Wonder Woman (WW) for Halloween. So I looked . . . and looked . . . to find the cost for a WW costume was ridiculous! I also knew that I wanted her to have something she could use again. So here's what I did.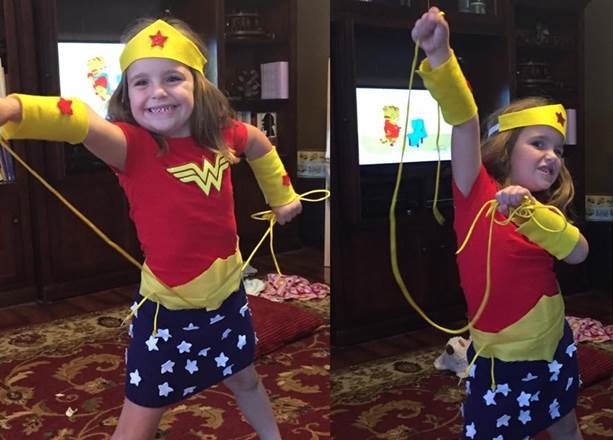 I got a plain t-shirt and skirt from Once Upon a Child for less than $10. Then I found felt (10¢ a sheet) in red, yellow and white. Next step was cutting out stars (a die-cut would be amazing if you have access to one) and lightly stitching them on the skirt for easy removal. I did break and "splurge" on a WW iron-on to sew on the front of my daughter's t-shirt. Since I wanted her to reuse this shirt, I made sure the WW was removable as well. The crown and arm bands were made of the yellow felt and Velcro I had in the house to attach them into arm cuffs. However, you could sew the cuffs as well if you don't have Velcro.
For the WW girdle I found some yellow scrap fabric, folded it in half and cut it. A little Velcro again and voila! Homemade Wonder Woman costume and she can use parts of at a later date! I would say the materials I purchased besides the clothing cost me less than $10.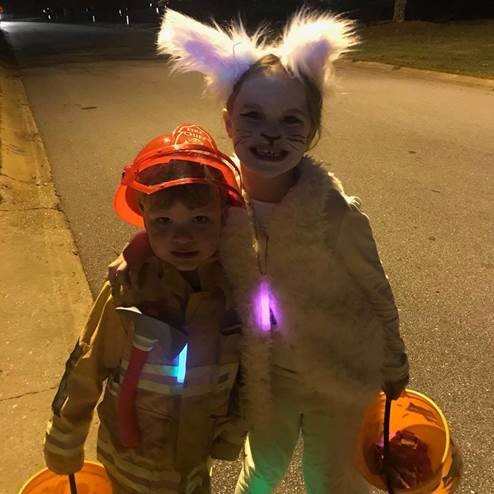 Last year, my daughter asked to be a white cat. Again, I didn't want to buy a one-time outfit. So, I went to Goodwill and believe it or not—Dollar General! I found a fluffy vest for penny's on the dollar. I used a coat hanger and furry fabric for the ears and tail. The shirt she already owned and had an illustration, but that covered by the vest. A little face paint and there ya go. She was happy and cute. Win-win.
On another note, you might see my son in a fireman's costume. This I did purchase, but I searched for it early enough to find one very economically priced on EBay.
Looking for adult costume ideas? One year my husband was going to a Halloween party and he decided to be Charlie Brown. He wore a yellow shirt and my daughter and I had a BLAST using my eye liner to make a pumpkin "model" on the back of his head (you guessed it, hubby's head is bald/shaved). I'd share a picture . . . but I think he destroyed them all!
For more inspiration, I always head to Pinterest. This "black hole" or "time sucker" is an amazing place to find all sorts of ideas, inspiration and instructions. Check these out!
Of course . . . if worse comes to worse, get a sheet and be Charlie Brown.