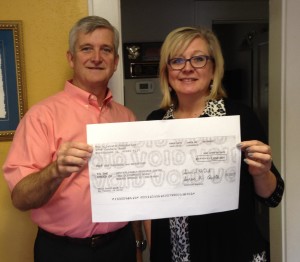 Getting acknowledged is a great feeling that everyone loves. What could make it better? Receiving a grant!
Ex-officio Board Member, Jack Mabry has said, "I feel that The Upstate Family Resources Center is a vital part of our community." Jack understands and believes in our mission of helping families thrive. He believed in UFRC so much that he provided the opportunity for UFRC to write a grant for $1,000 to the Allstate Foundation, which we were awarded.
Thank you, Jack Mabry and the Allstate Foundation for helping us sustain our mission of helping families thrive and become self-sufficient.
To be like Jack and to help the Center with our mission of helping families thrive, please consider giving on May 3rd at Support Spartanburg. Your donation will make a difference through our organization and may even be matched if you choose to give on this day! All donations must be made online at this address.