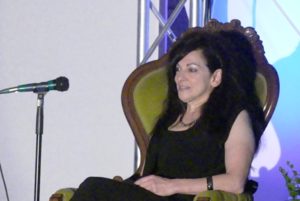 By: Marie Castronova
I thought I would be the least likely person to need the services of the Upstate Family Resource Center. My resume included a bachelor's degree, a career with ABC television, camera work for Good Morning America and work towards a master's degree. I retired early and moved to SC and felt privileged and blessed. But through a series of mishaps, I went from stable to destitute quickly.
My son and I came home from vacation to find our hot water had broken and flooded our home. I had insurance, though, and assumed while this was tragic, it wouldn't be detrimental. From this event the following ensued: the house wasn't completely dried, we had the most rain in Spartanburg ON RECORD that summer and more problems came. Due to this massive amount of rain, the companies working on our house left to attend to other flood affected areas leaving our home vulnerable to more problems. Our home was infested with every bug you can imagine, from fleas, to stinkbugs – by the thousands. I hired exterminators. They sprayed. It wasn't working. I went a step further and hired a specialist. We vacated the house for them to spray highly toxic pesticide to fix the problem. The toxins were sucked into the duct work because I wasn't told to not run the heat. Our home was covered in a white powder of toxic fumes. This time, insurance didn't believe "my story" and refused to pay for cleanup. When my 84 year old mom began coughing up blood, we left the house. My house was condemned by the health department shortly thereafter.  My daughter and I were living in my car and my son was away at school. My son came home with a MRSA infection on his face from the bacteria in our home. I had no insurance but he needed care – his hospital bill went on my credit card. Everything was snowballing at this point from that one incident with the hot water heater.
I found UFRC when my daughter went to school and told her teacher the reason she didn't have her homework finished because I make her turn the light out in the car. The teacher called UFRC and a case worker called me. I relayed my story and was embarrassed to ask for help but we had lost everything. They found us resources for a place to stay. Meanwhile, they found mold in our home so the insurance company would pay for that clean up – but that meant we truly lost everything. The house was gutted. I had walls and a roof. My case worker from UFRC called me again 2 months later and asked how we were doing. I told her about the mold and she connected me to a ministry that came and helped us throw everything out and gave us money for furniture, and even the essentials like toilet paper and shampoo.
UFRC is a place of connections and resources and care. They connected me to the resources I need but didn't forget about me once I was "taken care of". They followed up and sure enough I wasn't out of the woods yet so they helped again. In addition to the material possessions that were lost and comforts of home, my adopted daughter who came to me during this as a foster child also experienced emotional trauma that surfaced later. UFRC came to the rescue again through their Family Solutions Parenting classes. My case worker mentioned these classes during one of her follow up calls and I attended. This program helped my daughter and I to work through the emotional stress and toll this experience had on our entire family.