Carolyn Wilson, Financial Stability Coordinator
In this blog edition, Carolyn shares some prose…
Today I am a candy dish.  I am made of clear, cut glass with scalloped edges so that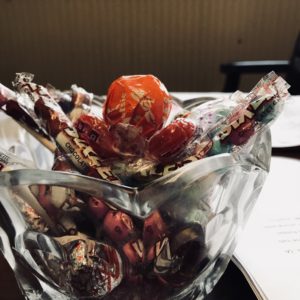 everyone can see all of the candy I currently hold.  The children always want to have some of my goodies, but they must ask their parents first. Usually they want more than one piece. Sometimes I venture out of my office on Wednesday which is bread day.  The clients are delighted when they get to choose something sweet while they wait. Although I change with the seasons, I always have something chocolate to offer. It seems that people just feel better when they have a satisfied sweet tooth!
and in case you want more on candy–here is some interesting facts:
• The first candy-making machine was invented by a pharmacist, Oliver Chase, in 1947, to crank out medicated candy lozenges.
• Up until before World War II, Americans had Halloween parties that might have involved some of what we do today, like costumes and games, but it was more of a harvest festival than a spooky thing.
•  Kellogg's advertised cereal Snack-Packs for trick-or-treating. (see link for a fun ad and more from a 1954 edition of Life Magazine)
• 1942-1945 To help maintain wartime morale, women at the Whitman's Candy Company slipped notes to soldiers in boxes of Whitman's Chocolate Samplers set to ship to the troops. The notes resulted at least a few friendships and even a couple of marriages.