Thank you Entegra Bank for your holiday donation that will allow us to continue to help families thrive.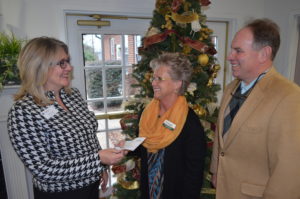 Franklin, NC (December 13, 2016)… Entegra Bank has given a donation in the amount of $3,000 to the Upstate Family Resource Center in Boiling Springs, SC. The Upstate Family Resource Center (UFRC) serves the Spartanburg School District 2 attendance area, which encompasses the unincorporated community of Boiling Springs, the rural town of Chesnee as well as Mayo, Cooley Springs and Fingerville. UFRC's mission is to help families thrive by providing educational opportunities, engaging activities and support services to achieve a healthier and more prosperous community.
UFRC's main focus is to help families move from a place of poverty onto the path of self-sufficiency, with strategies including workforce readiness, family strengthening and coaching and mentoring support.
This is the only resource of its kind in the district and Northern Spartanburg County.
UFRC's executive director, Kelley Ezell said, "This contribution will help us sustain the work that we are doing with families and an additional partner in our community. Thank you Entegra Bank for your support."
Sandra Blanton, Branch Manager of the Chesnee branch of Entegra Bank said, "We are fortunate enough to have UFRC in our community to provide help to those who need assistance. At Entegra Bank, we give back to the community to make our community more successful and we are proud to give this donation to the Upstate Family Resource Center."
Entegra Bank is a publically traded financial institution that focuses on full-service banking, including small business customers. The bank operates fifteen full service offices in Western North Carolina in the counties of Cherokee, Haywood, Henderson, Jackson, Macon, Polk and Transylvania and Upstate South Carolina counties of Anderson, Greenville, and Spartanburg. For further information, visit the Company's website www.entegrabank.com.