By Bethany Bolthouse
¡Feliz mes de la herencia hispana! Happy Hispanic Heritage Month!

At the Upstate Family Resource Center, we are thrilled to spend this month celebrating the Latinx community, both across the nation and right here in Spartanburg County. We are honored to have many members of the Latinx community partnering and serving with us as we strive to build a community in which all members are supported, included, and celebrated.

A celebración of Hispanic heritage has been honored nationally in the United States for over fifty years. What initially began in 1968 as a week-long celebration was later expanded to encompass the entire month of September 15th to October 15th. Within those dates fall the independence days of many Hispanic countries: Costa Rica, El Salvador, Guatemala, Nicaragua, Honduras, Mexico, and Chile (United Census Bureau, n.d.).
(A note on terminology: Hispanic refers to a Spanish-speaking country or person. Latino refers to a country or person from Central or South America or the Caribbean, including countries where Spanish is not the predominant language, such as Brazil. Latinx and Latine also may be used as gender-inclusive options. Despite these distinctives, Hispanic and Latino/Latinx/Latine are often used interchangeably.)
The Latinx community in the United States is vast, diverse, and has deep roots within our country's history. The map below highlights the world's many Spanish-countries. After Mandarin Chinese, Spanish has the most native speakers in the world at roughly 475 million (Eberhard, Simmons, & Fennig, 2020). In the United States, the Latinx population reached 62.1 million in 2020 (Passel, Lopez, & Cohn, 2022). Right here in Spartanburg County, our Latinx community members number over 22,000 and make up over 7% of our population (Data USA, n.d.). Much of what is now the Southwest and West of the U.S. – California, Texas, Nevada,
Utah, New Mexico, most of Arizona and Colorado, and parts of Oklahoma, Kansas, and Wyoming – once were part of Mexico. When this land was annexed by the United States in 1848 after the Mexican-American War, over 100,000 Mexican citizens found themselves living with the new boundaries of the United States (National Archives, n.d.).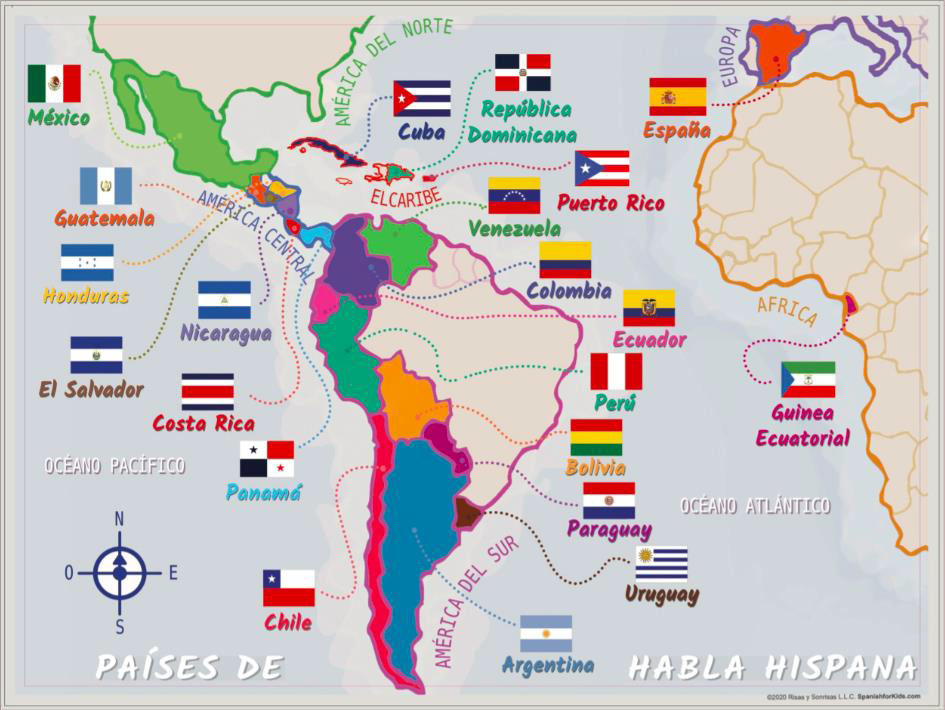 During Hispanic Heritage Month, fiestas across the nation focus on celebrating the beauty, strength, and resilience of the Latinx community. Gia Quiñones, a mental health worker in Spartanburg and board member of the Upstate Family Resource Center, shared that these festivals are a primary way that she celebrates Hispanic Heritage Month. Gia loves the music, food, and dance – such as salsa and merengue – that can be experienced at these events. "It gives me a taste or a feel for…what it is to be back in my country," she explained. Each fall, Gia locates and attends as many Hispanic Heritage Month festivals as possible within a two-hour radius of Spartanburg.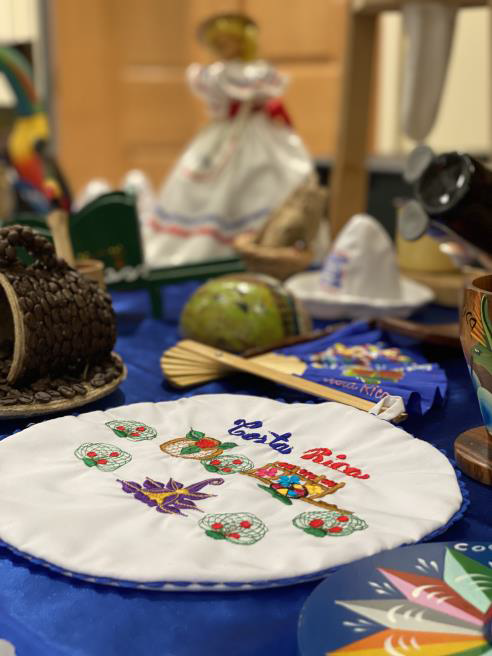 In addition to the incredible music, food, and dance, Gia loves the sense of familiarismo – a feeling of warmth or of being like family – at Hispanic Heritage Month festivals. Recently, Gia arrived alone at a Peruvian festival. Within moments of arriving, she made a connection with other attendees and proceeded to spend the entire evening with them as if they were old friends. Gia loves that being a part of the Latinx community means that you can easily connect, talk, and feel like family.
The Upstate Family Resource Center partners with the local Latinx population through a partnership with PASOs. PASOs – meaning "steps" in Spanish – is a South Carolina-based program that was established in 2005 to support the Latinx community through education, advocacy, and leadership development.
Nora Curiel-Muñoz is on staff at the UFRC as the leader of PASOs Spartanburg. Nora first connected with the UFRC as a student in the ESL program in 2010. After becoming a volunteer with the UFRC and later an employee, Nora led the creation of PASOs Spartanburg in 2017. Nora explained that a core tenant of PASOs is that, "It is a community-led organization…It is people from the [Latinx] community serving the [Latinx] community. We know the culture, how they think, how they feel. We have empathy because we are all immigrants or children of immigrants."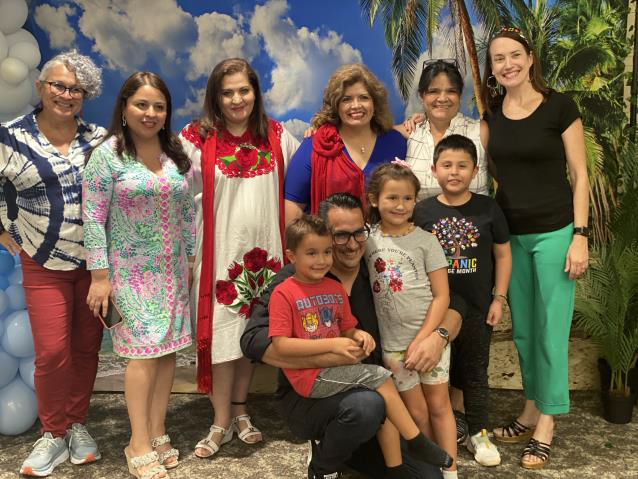 PASOs works to support the Latinx community with a personal understanding of the inequities and social barriers that they face. PASOs has an Early Childhood Development program in which they evaluate the development of children under five. Sometimes, delays among Spanish-speaking children go unnoticed because academic struggles are assumed to be due to the language barrier. The PASOs team's ability to assess the children in Spanish allows them to identify whether the root of the struggle is the language barrier or a developmental delay. Families may also connect with PASOs Health Connections. Depending on the family's needs, PASOs team members connect them to health services, family strengthening services, financial assistance, food resources, or programs like SNAP benefits or WIC. The program aims to holistically serve clients.
In addition to its partnership with PASOs, the UFRC supports the Latinx community by partnering with other local organizations that value inclusivity, diversity, and racial equity in Spartanburg County. These organizations include Alianza Spartanburg, El Centro Latino, the Spartanburg Academic Movement, the Unitarian Universalist Church of Spartanburg, the Mary Black Foundation, the United Way, and many more.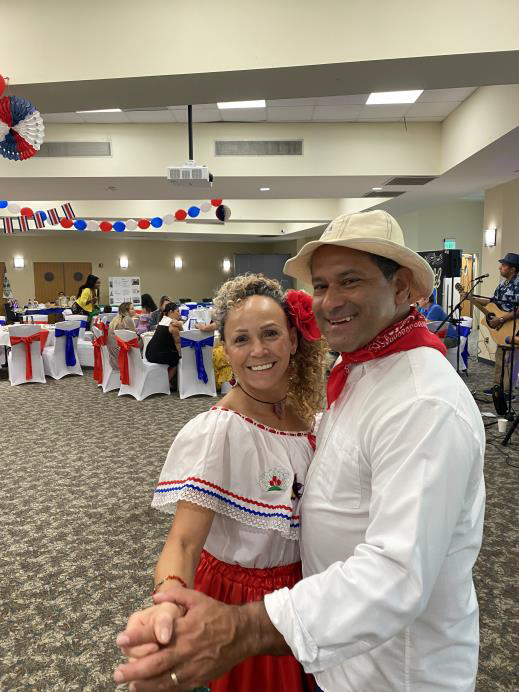 Each September, PASOs Spartanburg hosts its own Hispanic Heritage Month festival. In addition to hearing about PASOs' work in the community, attendees learn about the year's country of honor through food, music, dance, and speakers. Nora shared that the PASOs team began selecting a country of honor for each year's celebration in order to better bring awareness to the richness of the Latinx community. Because there are so many cultures and countries represented within the Latinx community, this allows attendees to focus in on one country's specific cultures, customs, foods, language, and history.
The Latinx community and culture bring so much richness to the United States. One characteristic of the Latinx community that Nora deeply admires is resilience. Nora stated, "I think that it is a very difficult decision to leave your country and come to another country. Many people risk their lives and the lives of their children. I think that it is admirable, in a way, that someone is willing to take such a huge risk to give their children a better quality of life." Despite this challenge as well as the barriers and inequities faced in the United States, members of the Latinx community continue to show great resilience.
Both Nora and Gia both admire the way in which members of the Latinx community support each other. "We are solidarios," Nora said, which means supportive. "We help each other." Gia further explained, "We value family and community so much. There's a sense of, 'I have your back'…If something is going on, we unite to make sure that a family is supported and not alone."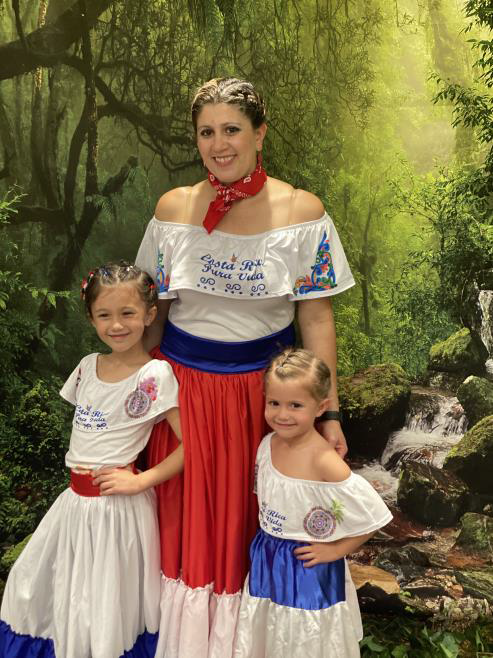 Gia Quiñones believes that tolerance and acceptance are two other strengths of the Latinx community. "Coming to a different country that is not yours – that has a different culture, a different language, maybe practices different traditions – it's so important to have that tolerance and acceptance," Gia stated. Members of the Latinx community are tolerant and accepting of each other's differences, as well. "We all come with different backgrounds and culture and traditions," Gia explained. Each Spanish-speaking country is incredibly unique. Even neighboring countries can differ greatly in customs, history, food, and vocabulary, and the Latinx community celebrates the richness of that diversity.
The concepts of tolerance and acceptance are represented in this year's official theme of Hispanic Heritage month, which is, "Unidos: Inclusivity for a Strong Nation." Unidos means united. About this theme, Gia said, "We are a diverse country. Once we learn to appreciate that diversity is a strength, rather than [something that holds us back], then we can grow and become a better and stronger nation." This theme reminds Nora of a quote she once heard: "Every culture is like a fabric. We are the [strings]. We can make beautiful things when we [weave the strings together into a fabric]. When all of the culture and personality is together, we make something beautiful."

At the Upstate Family Resource Center, we echo Gia's and Nora's belief that diversity is a strength that makes a stronger and more beautiful community. We are thankful to have Hispanic Heritage Month to specifically honor and celebrate our Latinx community as we strive to become a community in which all members flourish and thrive.

Resources
Data USA. (n.d.). Spartanburg County, SC. https://datausa.io/profile/geo/spartanburg-county-sc#demographics
Eberhard, D. M., Simons, G. F., & Fennig, C.D. (2022.) Ethnologue: Languages of the World. https://www.ethnologue.com/guides/most-spoken-languages
Fenway Health. (2022). Celebrating latinx heritage month 2022. https://fenwayhealth.org/celebrating-latinx-heritage-month-2022/#:~:text=This%20year's%20theme%20is%20%E2%80%9CUnidos,Accountant%20at%20Farm%20Credit%20Administration
Passel, J., Hugo Lopez, M., & Cohn, D. (2022). U.S. Hispanic population continued its geographic spread in the 2010s. Pew Research Center. https://www.pewresearch.org/fact-tank/2022/02/03/u-s-hispanic-population-continued-its-geographic-spread-in-the-2010s/
National Archives. (n.d.). Treaty of Guadalupe Hidalgo (1848). https://www.archives.gov/milestone-documents/treaty-of-guadalupe-hidalgo#:~:text=This%20treaty%2C%20signed%20on%20February,Oklahoma%2C%20Kansas%2C%20and%20Wyoming.
United Census Bureau. (n.d.) Facts and Features: Hispanic Heritage Month 2018. https://www.census.gov/newsroom/facts-for-features/2018/hispanic-heritage-month.html